The Brownridge legacy began when Thomas William Brownridge started delivering milk and hauling coal from various mines around Leeds to local households by horse and cart. Thomas quickly expanded his services into household removals, light general haulage and the distribution of beer throughout Yorkshire on behalf of renowned brewers of London.
Business  grew steadily,  and in time,  all his six sons joined the Brownridge  enterprise.  Around about 1935  a light haulage company was established with the intention of delivering goods further afield. From a rented yard in Vinery View, Leeds 9, "DISTANCE NO OBJECT" became his motto which is still echoed throughout our business today.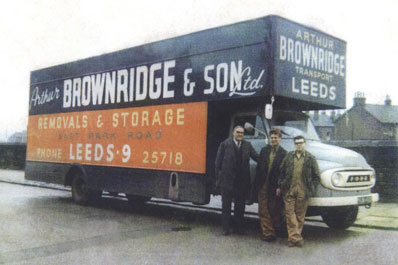 Arthur Jnr joined his father in 1956, having  served  two years in the RAF for national service. The company became known as Arthur Brownridge & Son Ltd and the business expanded to  general haulage and household removals,  with piano removals  proving a  speciality service. A fleet of box vans were purchased to cater for the demand for general haulage deliveries throughout the UK and  in 1965 the firm moved to a larger depot in East Park, Leeds 9.
In 1979, Arthur Brownridge, the current  Managing Director,  continued the tradition by joining the family company. He began his apprenticeship in the garage workshop and also worked as a driver's mate assisting on removals and deliveries. At the age of 21 he passed his HGV1 Licence and later gained an International CPC Qualification.
In 1986 the company changed its name to Arthur Brownridge Van Hire Ltd. In the late 1980's Arthur invested in a fleet of articulated units and trailers to compliment the box vans. Now employing more than 20 drivers the vehicles travel throughout the UK and into Europe.
With an increasing demand for spot hire labour in the transport industry, AGENCYHIRE LLP – a small employment agency – was also founded, specialising in the supply of drivers, driver's mates, removal porters and warehouse personnel to the transport and industrial sectors.
In 1996 the company moved to much larger premises in Mabgate, Leeds 9. At the same time the company changed its corporate image and began trading as Brownridge Transport. The fleet now consisted of 40 plus vehicles and over 100 trailers.

Arthur also decided to invest in commercial property for the purpose of warehousing and property letting through Bridge Estates. All three businesses became collectively known as the ABGroup. Within nine years, due to continued growth, the AB Group moved to a purpose built facility in Rothwell. Three years later, due to constant expansion, it became necessary to relocate to an even larger depot.
In March 2008 the head office transferred to Clayton Works, Midland Road, Leeds 10 (above), where it remains today.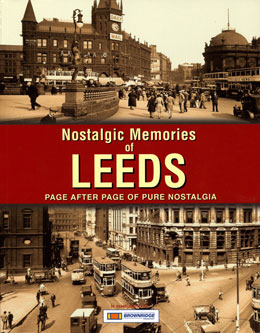 Nostalgic Memories of Leeds
For an in-depth look back at the history of Leeds, we strongly recommend this fascinating paperback published by True North Books.
Priced £12.99